Getting to know us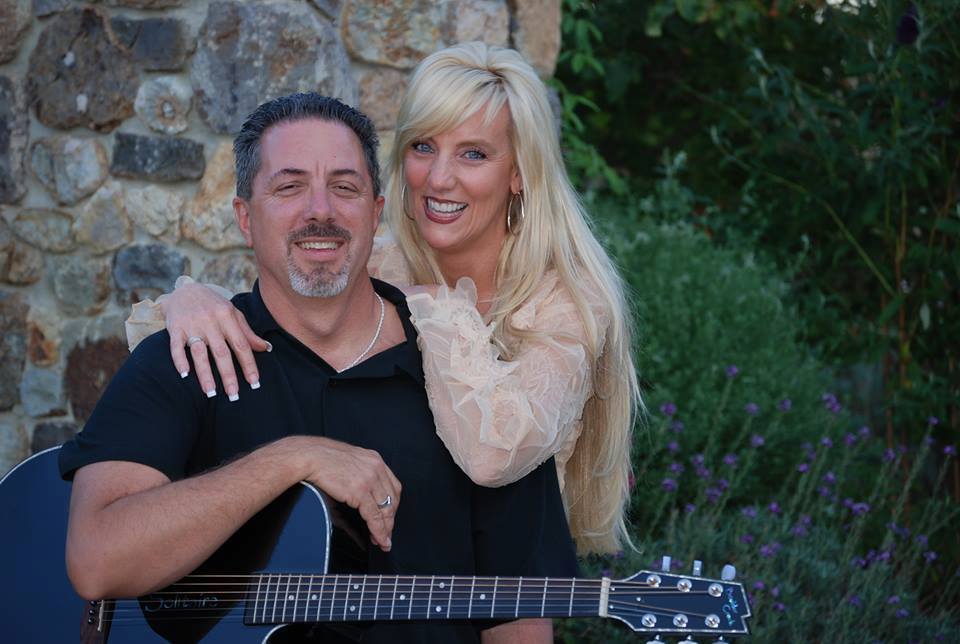 Jeff & Juli have been performing together since they met over 17 years ago. Their unique blend of vocals matches the energy you feel in the room when they perform together. Living in the California Bay Area, Jeff and Juli have enjoyed playing at wineries, festivals, restaurants and private events all over the state. The music that makes up Jeff & Juli's set list comes from the artists that have influenced their musical lives.

Jeff has been a musician since he was a young boy making drums out of coffee cans playing along with the music on the the old phonograph. Picking up guitar with his older brother at the age of 9, Jeff began a musical journey that would last a lifetime. Jeff has been performing to audiences since he was in grade school. If it was music, Jeff did it. Concert Bands, Jazz Bands, Marching Bands, Drum & Bugle Corps, and of course all the different groups he played with through the years.
Juli was born with an infectious personality and a zest for life. She was always drawn to, and had the ability to harmonize with any music she listened to. Having played clarinet, guitar and piano, along with singing in choirs, she had a solid foundation for when she and Jeff met. The first time Jeff & Juli practiced, Juli added incredible harmonies to Jeff's set list.  Jeff says that the hair on his neck stood up and he got goose bumps. The rest is history.

One of the greatest honors that they experienced was when they were called by Ingrid Croce and asked to play a Jim Croce Celebration of Life for a dear friend of Jim and Ingrid's that had passed away. At the event, Jeff & Juli played over 2 hours of Jim Croce's music to special audience of Jim Croce fans and friends.

For special events, Jeff has developed a Jim Croce Tribute Show. This is a performance where he takes the audience into the life of Jim Croce. Telling stories of Jim's life and sharing the background behind the songs, Jeff shares an emotional tribute of the fun, creativity, struggle, sadness and the lasting legacy that is Jim Croce. There is no one else out there that does this especially in the detail that Jeff puts into it. People walk away having learned things they never knew about Jim, and the knowledge of where the ideas and meanings of the songs came from.
" I love the stories you share about Jim Croce and his music. It has given me a greater appreciation of what he accomplished with all that he went through. I always loved his music, but I love it even more because I feel like I know him now. He was such an interesting and colorful guy! - Sandee S.

When asked what sets Jeff & Juli apart from the crowd,  the answer would be their selection of music, and their desire for excellence. Jeff & Juli don't play music to  just to play music like most musicians do. They play music to stir your emotions, touch your soul and take you on a musical journey that will keep you riveted to your seats or keep you coming back for more.
" I remember the first time my husband and I saw Jeff & Juli at a wine event. We were new to the area, and they made us feel like family right from the start. Their music is so beautiful that you don't want to talk....you just want to listen!!! We always enjoy bringing friends to see Jeff & Juli. It makes for a great evening!" Kathy B

Experience the music of Jeff & Juli today. Available in several formats to fit your event, Jeff & Juli are available as a Solo, Duo, 3 Piece with Bass or Percussion, or as a full band. Jeff & Juli are available to play as the Headliner or opener to a captive audience, Festival Entertainment, Background Music, Restaurants, Weddings, Corporate and Seasonal Events. For events with special musical themes, their extensive set list can accommodate most requests for example, Singer Songwriters, Lady Rockers, Neal Diamond, Summer Singalong, Romantic Valentines, Jim Croce, Country Music… If you have ideas, give us a call to see if we can make it work for you.

Visit our Contact Page for booking or visit the "shows" page for upcoming events!